Every home is different, and the same applies to most residential landscaping projects.
If you decide on designing your own landscape, there are numerous concepts from which you can glean ideas; or you can try drawing up your own unique landscape design that meets your need and fits your personality.
With a professional landscaper, it is possible to achieve your dream landscape; however, it is a creative adventure to know what other people out there are doing with their landscapes. Knowing this can enable you to improve your concept. Here are the most-popular landscaping ideas this year:
Create an outdoor lounging / dining area
Most people love the idea of a dining area outside the house, or simply spending a few hours relaxing on the lawn. This dining area is ideal for use on weekends when you invite guests over, or when you want to have a campsite experience at home. This also goes well with a comfortable seating area where you can use old or new outdoor furniture.
Beautifying the landscape with flowers
Nothing makes someone feel welcome or at home as flowers do. You can go all out on your favorite blossoms, but make sure to consider perennial blooms or plants. Creating a walkway with different flowers on either side creates an illusion of greater distance.
Recreational facilities
You can add a swimming pool in your back or front yard as many new homeowners with enough land space are doing. A pool is always inviting, and it helps people to relax in the water; it helps others keep up with their fitness goals, and you will love to hold parties and other fun poolside activities. Although the trend of having a pool has been there for a while, it still seems to be fashionable to have one.
Plant a fruit or vegetable garden
A fruit or vegetable garden is one of those landscaping ideas that will not only add beauty to your lawn, but also one that will benefit your kitchen pantry. Experiment with growing various fruits and vegetables that can be of use in your kitchen.
Build an outdoor kitchen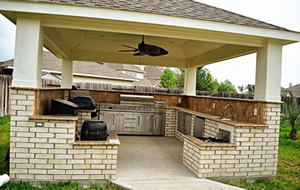 This is quite trendy, especially in homes where the owners love hosting parties to spend time with friends. An outdoor kitchen makes it possible to cook and participate in fun activities at the same time. Also, when grilling or roasting meat, you do not need to worry about the smoke or the size of the flame.
Professional lighting
Lighting your landscape is one of your best ways to bring out the beauty of your landscape because you can play with the lighting in different and exciting ways. You can choose to use spotlights, ground lights, up lights or down lights. You can also opt to combine a few types, just to make your lawn stand out, especially at night.